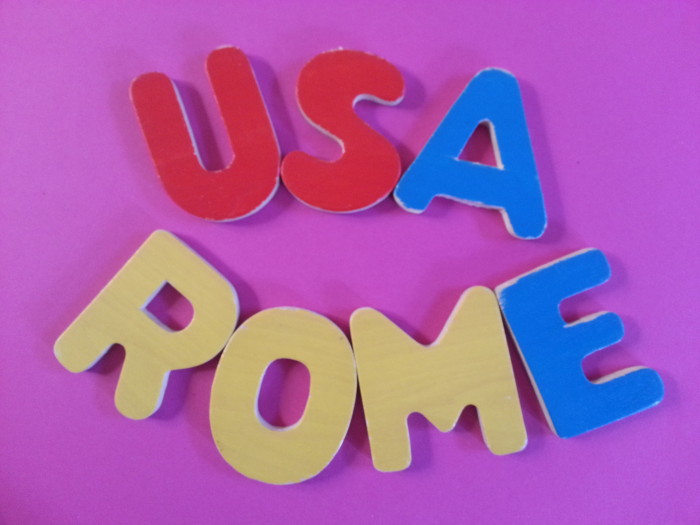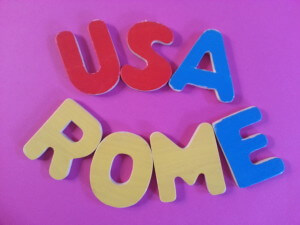 When I became a mother and I started posing myself a series of "how to'" questions, I very soon stumbled on my bilingual education project for my children: how to raise them with English as a near-native language.
It was probably at that moment that I thought about how many people have the exact reverse problem, that is native English speakers that have settled in Rome and want their children to learn Italian while preserving their native language.  And, talking about Rome, I began to wonder what would bring them here in the first place (okay, that's easy to figure out!) and what would keep them here, going from the dream of  living "la dolce vita", with the reality of Rome and Italy in general: noisy traffic jams, inefficient public services plus seemingly inexplicable politics.
Then, I met Kissy Dugan, the most enthusiastic American mom you can find in Rome. She is a writer and stand up comic, she currently writes for various on line publications. She has written for the stage, screen and page and is currently peddling a memoir and a couple of scripts for film and TV. Kissy is incredibly talkative and utterly funny, and has taken up the Italian jargon in a way that I seldom hear from foreigners, even when they have lived here for a much longer period, and with an Italian husband, like her. "It's raining, mannaggia!" it's a typical mixed expression of hers. She, therefore, was the right person to ask what's it like to live in Rome for a foreigner. This is my interview with her. Enjoy!
Why did you come to Rome? Why did you get here in the first place?
I came to Rome in June of 2005. I met my 'marito romano' in 2004. For 7 months I flew back and forth from New York to Rome… then I decided to make a bold move. I asked him if I could come to Rome for the summer. I figured the worst thing that would happen was that I would get my heart broken but have a great summer in this amazing city. The summer was great. The city was great. And we were great together. So here I am.
How did it go in the early days of your living in Rome? When you first moved her was the transition easy?
Initially, when you move anywhere, there is honeymoon period. The early days were exciting. Because I was in love with Rome. And when you add a new language and a new culture to that excitement… it was quite an adventure. The language situation was so interesting for me. Not speaking any Italian was a challenge. As a person who used words to make a living – not to mention that I was voted 'most talkative' in my high school class – not being able to speak was really humbling. Language was like a super power for me… and Italian was my kryptonite.  But not speaking also taught me so much. It made me listen in a different way… and it made me rely on my instinct and intuition more. It was also difficult to learn how to speak with your mouth always full! to immerse myself in the Italian culture, I ATE MY WAY through this city! Actually, I still do!
What is the right attitude to deal with such a big move (from the US to Rome?)  ?
If you move to Rome… you need to accept her like she is…a wacky girlfriend. You need to love her for what she is good at (food, wine, art, weather, culture) and overlook her imperfections (inefficiency, bureaucracy, government corruption). Oftentimes I struggle in Rome because I have "a New York state of mind"… I demand efficiency and I am very punctual and time-conscious. This is something that does not serve me here. No one is on my time table. I want things done 'yesterday.' My husband always laughs and says that "subito" in Italian translates as "in two weeks" in NY!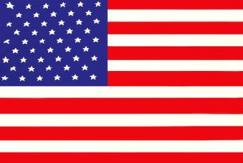 Do you ever wish to be back in the US? If so when or on which occasions?
I am lucky because I do get to spend a lot of time there (on average 2 months a year), but there are times when I can't be there that I wish I could. When I miss important events… like weddings, funerals or big parties. Or when someone is not well… it is difficult to be so far away.
What kind of work do you do in Rome?
I'm a writer, an occasional English teacher and the CEO of Casa Dugan-Lori… (i.e. a mother!).
How do you manage the lives of your children? Where do you feel that they belong?
Am I managing?? Somedays, I'm not sure.  My kids are in Italian schools (scuola dell'infanzia and prima primaria), but we usually have English lessons during breakfast time. I have a wall that doubles as a chalk board next to my breakfast bar… so we usually start the day with some spontaneous story writing, phonics and…coffee (me). Then I beg them to get dressed for about 20 minutes, plead with them to put their shoes on and then drag them out the door! After school, we have a mix of therapy (speech and OT for my 6 year old), free time playing in our garden or negotiating time allotted on the iPad or Apple TV.
I feel like my kids belong in both countries! At school many people refer to them as "the Americans" and in the US friends and family consider them "so Italian!". I guess they don't fit in perfectly in either country. But in reality, they do just fine in both places.  My kids are bilingual… but because they do spend a good amount of time in the US, I consider them almost bicultural. Between them, they only communicate in English.
How does it feel to raise children in Italy vs. in the US?
A lot of people have asked me this… since I've never had kids in the US, I guess I can't really know how it feels. But there are things I love about my upbringing that I try to give to my kids. I believe in the American "can do" attitude, I believe in playing with my kids (my dad played with us a lot) and baking chocolate chip cookies with them (that was my mom's territory). Then there are things about the Italian culture that I absolutely adore and try to use in my parenting… like cooking, using the meal as a celebration and the lack of firearms! Basically, I'm lucky.  I get to pick the best things from two cultures – not just one!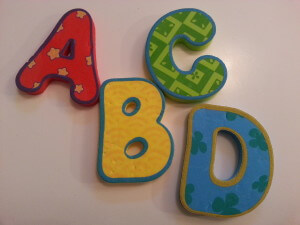 How did you choose the school for your children?
School is a battle. Everywhere. Not just in Italy. I originally chose an International School for my kids… but when my 6 year old had some developmental problems, we were forced in to the public system. Sometimes, bad things happen for good reasons! In the public system, my son has individual help or a "sostegno", his Italian has improved loads… and we have found a group of teachers who are not only qualified (laureati) but also wonderfully cooperative with our therapists and so caring! My only doubt about the Italian system is the lack of funds. This doesn't enable enough art, technology, music or physical education. However, I am constantly evaluating… and I don't think they will stay in public school for their entire scholastic career.
What relationship do your children have with the different languages spoken at home and at school? What is their dominant language ?
My kids are English dominant. Which is odd, because they live in Rome. They love to watch movies… anything Pixar. And they strongly believe that films should be viewed in original language… I wonder where they go that idea from? They do refuse to watch American films in Italian. But they do ask me: "when will they make a movie for kids in Italian?"
In which area of Rome do you live and why? What are the pros and cons of that area?
We live near the Basilica San Paolo/Ostiense. My husband wanted to live in  EUR… I wanted Trastevere. We compromised and met half way. We also found a fairly sizeable apartment with a large garden (by Rome standards). PROS: The garden houses a trampoline (best money I ever spent) and enough room for biking, calcio, basketball and a BBQ. That, coupled with the fact that I have the most amazing couple of borrowed "nonni" in the "palazzo", makes my job as a mom much easier. We are also close to the metro… which makes my social life easier! CONS: It is not an attractive area…
As for the work, how is the situation in your field in Rome?
I have to say work wise, Italy has always been very kind to me! As an English speaker and an outsider, ironically I have more opportunities than many Italian people. Because I've worked in Entertainment, I had a life of experience that was also valued here.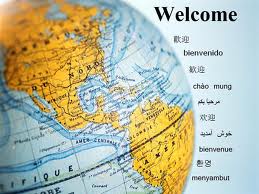 If you could choose the place where you would like your children to grow, which would you choose and why?

That is hard, because Shangri-La doesn't exist. The grass isn't always greener.  Life has its challenges wherever you go. If Great Britain had Italy's weather, food and wine… maybe I would say London. Or, If I could, I would clone my kids and myself and keep one set of us here and one set of us in the US.
Rome is a popular destination for many Americans. What do you think American (or English – speaking tourists) should do or see, with or without kids, that only a real Roman would know?
My advice to parents (travelling or not) is usually: do what you've got to do to get through the day! 😉 But for travel specific to Rome,  I would say schedule your time so that you get to see what you want… but also so that your kids have free time to run around in a Park, like Villa Celimontana (near Colosseum) or Villa Borghese. Small kids often don't care about the Sistine Chapel or a Caravaggio. Another good tip… have an aperitivo in an open Piazza. The kids can run around while the grown ups can relax with a glass of wine. I am also writing a family-centric blog. So, every couple of weeks, I give tips for travelling parents.
Okay, Kissy, thanks for your time!
If you liked this post, sign up to get updates by leaving your email in the footer. You might also like: