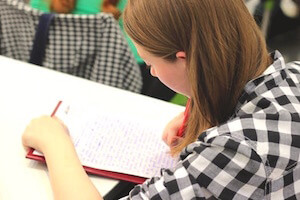 This post is the second episode of a two-part series for helping expat families that have to choose a school in Italy and, in particular, in the city of Rome.
In the first part (The Italian Education system explained to English Speaking Expats) I have explained the Italian Education system to those who are not familiar with it.
In this post I will consider whether or not to choose an international school, I will mention the different English-speaking schools' options in Rome and the new trend of "bilingual school" that is expanding in Italy.
Choosing an English-speaking International school
A reason you might want to choose an international school is that of the diversity of the student body. Also, if your stay is brief (2 years or less) or if you are intending to return to your home country some time in the future, it might be better to send your child to an international school.
International schools in Rome cost from 10.000 to 25.000 euros a year, not exactly cheap if you consider, just by comparison, that each student in the Italian public education system costs around 4,000 euros a year (and it is paid by taxes). This can be partially explained by the fact that international schools have great facilities (in terms of classrooms but also sport grounds, art and music rooms, and so on) and that in some cases their teachers are more qualified than Italian ones (which does not mean they are necessarily better). In fact, the most serious schools publish profile pages or the CV of each of their teachers, where one can find that they hold a master or doctoral degree. These teachers are also better paid than Italian public school teachers and have incentives for organizing further extracurricular activities or clubs for pupils. This explains, at least in part, the exorbitant cost of these schools, often calibrated to expat families whose school fees are paid by the corporation they work for.
Also, I think it's important, that when you put a child in a very privileged environment, to give him/her the chance to remember that not everyone is so fortunate. It is for this reason that many international schools, have fundraising and volunteering activities both in the school and out (including the "service" component of the International Baccalaureate's "CAS").
Three main model of international school
If you take the international option, you should decide which system suits you better, whether British, American or IB. Some international schools are a mixture of various school systems (British/American/some Italian) with English as the common language, so it is best to read carefully each website before making the choice. Most end up with the International Baccalaureate (IB) at senior school level.
This said, English speaking International schools in Rome, roughly follow three different models and have different programs.
Schools that offer the British National Curriculum. In brief, the schools offering the British system are St. George's (looks and feels like a private British school in the UK, has 2 campuses, very good academic reputation in virtually all subjects including arts and music); New School (looks like a state comprehensive in the UK, has A-levels and not the IB, not for profit, incredibly friendly and familiar atmosphere, quite good reputation especially for sciences and drama); Core International School (again looks like a state comprehensive in the UK, has only nursery and primary but I must add that admission criterias are very opaque).
Schools that offer the American Curriculum. AOSR, Marymount International and others follow in this category. In the U.S. school system the emphasis is on a "can do" attitude in which the child can learn to maximize his/her potential. The most "American" school is American Overseas School of Rome. It is non selective and has the atmosphere of an American public school. It offers both the American diploma (plus APs) and the IB. Another American school is St. Stephen's School, is only High school only and has the IB. This is the equivalent of a prep school for seniors and is located in the south of the city. Marymount International School is also an American School but is a catholic one and is quite "in" among Italians at nursery/elementary school level.
IB Schools that offer the IB curriculum starting from primary school (IBO's primary years program). Among these are Rome International school and Ambrit. Ambrit is a hybrid: part Italian, part American, part English National Curriculum, as is Rome International School, currently doing PYP and IB. Rome International School is very popular among Italians and with very good facilities.
Some international schools offer courses in Italian or in other languages. Some schools organize examinations (such as the "terza media exam") that allow pupils, if so desired, to re-enter the Italian system.
Evaluating the quality of a school
While every school is unique, making comparisons between schools can be difficult. There are, however, a few objective things that can be measured. For example: quality British International Schools must usually be accredited by an external body, such as the Council of British International Schools (COBIS). COBIS schools undergo a statutory inspection by the UK-based Independent Schools Inspectorate (ISI), the same body that inspects the majority of the independent schools in the UK. Other organizations offering forms of accreditation to international schools, include the Council of International Schools (CIS).
For High Schools you can compare IB results. An acquaintance of mine has been doing this test for some years, and usually says that, in Rome, the competition is between St. George's and St. Stephens, that have the best results on alternate years. This, however, may well be attributable not only to the quality of teachers but also to selective entry criteria. This might mean that it might be unfair to compare, for example St. George's with AOSR, given than the latter is a non-selective school (but then, again, not all student at AOSR go for IB, others may opt for the American Diploma, with or without APs, which complicates even more the comparison).
Another example: New School is the only one that offers British A-levels and not IB, making it incomparable to any other school in Rome (but open to comparison to similar schools in the rest of Italy or in the UK, if you take into account a similar student body).
A list of the international schools of the city of Rome

What follows is the complete list of schools. For more information on costs, programs and locations, please contact each institution directly and see also the Rome International Schools Association website which also contains an interactive map of the various schools across the city.
ACORN HOUSE INTERNATIONAL SCHOOL
Via Veientana 297, 00189, Rome
www.acornhouse.school
From 3 to 13 years. It follows the English curriculum but also guarantees the Italian state exams. It is about to offer also a secondary school with the IB program
AMBRIT INTERNATIONAL SCHOOL
Via Filippo Tajani, 50, 00149, Rome
www.ambrit-rome.com
From 3 to 13 years
AMERICAN OVERSEAS SCHOOL OF ROME
Via Cassia 811, 00189, Rome
www.aosr.org
From 3 to 18 years (American Diploma and International Baccalaureate)
THE NEW SCHOOL
Via della Camilluccia 669, 00135, Rome
www.newschoolrome.com
From 3 to 18 years
Founded in 1972 (from St George's), it follows the British curriculum. Has A levels and not the IB.
CORE INTERNATIONAL SCHOOL
Via Crati 19, 00199, Rome
www.coreinternationalschool.it
From 3 to 11 years
It is a small school with the British program. It is also cheaper than many others.
GREENWOOD GARDEN SCHOOL
Via Vito Sinisi 5, 00189, Rome
www.greenwoodgardenschool.com
From 2 to 6 years
KENDALE PRIMARY INTERNATIONAL SCHOOL
Via Gradoli 86, 00189, Rome
www.kendale.it
From 3 to 11 years
CASTELLI KINDERGARTEN
Via dei Laghi 00047 Marino, Rome
www.castellikindergarten.com
From 3 to 6 years
CASTELLI INTERNATIONAL SCHOOL
Via degli Scozzesi 13, 00046 Grottaferrata, Rome
www.castelli-international.it
From 6 to 14 years
MARYMOUNT INTERNATIONAL SCHOOL
Via di Villa Lauchli 180 (Via Cassia Antica Km. 7), 00191 Rome
www.marymountrome.com
From 2 to 18 years (American Diploma e International Baccalaureate)
ROME INTERNATIONAL SCHOOL
Via Guglielmo Pecori Giraldi, 137, 00135, Rome
www.romeinternationalschool.it
From 2 to 18 years (with International Baccalaureate)
ST.FRANCIS  INTERNATIONAL SCHOOL
Via delle Benedettine, 50/b, 00135, Rome
www.stfrancis-school.it
From 3 to 14 years
SOUTHLANDS ENGLISH SCHOOL IN ROME
Via Teleclide 40, Casal Palocco, 00124, Rome
www.southlands.it
From 3 to 18 years (with International Baccalaureate)
St. GEORGE'S BRITISH INTERNATIONAL SCHOOL
Via Cassia Km. 16 (La Storta), 00123, Rome
www.stgeorge.school.it
It is the main British school in Rome. From 3 to 18 years old. It has another campus in the Vatican/Aurelia area for the Junior School. It is the main British school in Rome. Immersed in the greenery of the La Storta area. Has the International Baccalaureate.
ST. GEORGE'S BRITISH INTERNATIONAL SCHOOL – CITY CENTRE
Via di Santa Maria Mediatrice 22G, 00165, Rome
www.stgeorge.school.it
From 3 agli 11 years. It is the detached branch of the largest St. George's of La Storta.
STEPHEN'S SCHOOL
Via Aventina 3, 00153, Rome
sssrome.it/en/home
From 14 to 18 years. With International Baccalaureate
LITTLE GENIUS INTERNATIONAL SCHOOL
Via di Grotte Portella, 00044 Frascati,
www.littlegenius.it
From 2 agli 11 years
An "alternative international school"
CHILDREN CASTLE'S INTERNATIONAL
Via Frascati 213, 00040 Rocca di Papa (Roma)
tel. 06-94791063
www.childrenscastleinternational.com
Dai 2.5 ai 6 anni
UK curriculum + Montessori Method
BRITANNIA INTERNATIONAL SCHOOL
Via Ernesto Parisi, 11, 00134, Rome
www.britanniainternationalschool.it/index.htm
From 3 to 11 years
ABC KIDS
Via Giovanni Animuccia 11, Rome
www.abckidsroma.it/eng
It is a small nursery school and children's school for children From 2 to 6 years. It is not part of Rome International School Association.
LITTLE STAR DAY CARE
Via Cassia 344, 00191 Rome
www.littlestardaycare.it
From 2 to 6 years
BENEDETTO XV INTERNATIONAL SCHOOL
Via del Grottino snc
00046 Grottaferrata (RM)
https://www.benedettoxvinternationalschool.com/
dai 3 ai 14 anni
CURRICULUM:  UK, INTERNATIONAL
from 12 months to 13 years old
Apart from Rome, there are many other international schools in the rest of Italy, A complete list can be found here: Le scuole internazionali in lingua inglese in Italia. Plus there are French, German, Spanish, Swiss and Japanese schools in Italy.
The new trend: bilingual schools
Among Italian parents the new hype is choosing a bilingual school. What is the difference between a bilingual school and an international school? A bilingual school is a school that basically offers the Italian program plus more English language and English-taight subjects than normal Italian schools (the second language is usually English, but there are also bilingual schools with French or Chinese). They are a much cheaper choice than international schools, with fees varying from 4.000 to 8.000 euros a year.
An Important thing to bear in mind is that the status of these schools as "bilingual" is self-defined: there is no common norm or rule.
In the absence of a regulatory definition, the world of "bilingual" schools is a bit of a jungle, so you have to keep your eyes open. Some schools self-define 'bilingual' but then offer only 4 more weekly classes in English than a public school does. Some others, like Istituto Marymount, for example, offer up to 16 hours a week of English language and subjects taught in English by native speakers and may be better candidates for using the term "bilingual school". It is therefore important that parents who are interested in this kind of school ask for detailed information on the amount of English and English taught classes for the various academic years.
Until recently, all the schools offering a bilingual pathway were "scuole paritarie" i.e. private (often catholic) schools. In this past year, some Italian public schools at primary/elementary and secondary/middle school level, have begun offering extra English by adopting, at a very convenient cost for parents, the Cambridge "primary checkpoint" or "secondary checkpoint" programs, taught by mother-tongue teachers.
If you liked this post, sign up to get updates. You might also like: